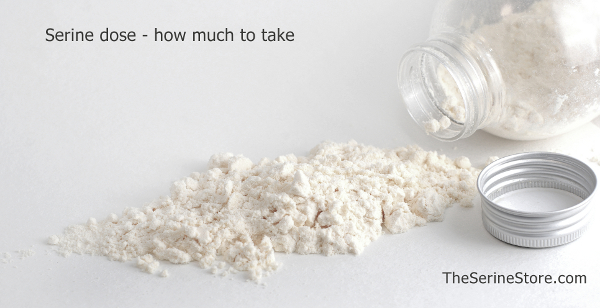 There is minimal in the medical literature as to how much serine to take for various conditions. This is primarily based on the fact that very few conditions have been conclusively tied directly to a deficiency in serine (at least to the standards of being documented in the medical literature).
One deficiency is well documented at this time and that is 3-Phosphoglycerate dehydrogenase (3-PGDH) deficiency. If you are reading this you do not personally have the deficiency, it causes rather severe mental and physical disabilities. You may be a carrier, as I am, and your children may be effected.
The dose in the literature for 3-PGDH deficiency is often cited as 600 mg/kg/day.
Treatment should start with L-serine at a dose of 400-600 mg/kg/day in four to six doses; in most of the cases, the dose of L-serine is around 600 mg/kg/day.
(that is from one such article)
Nerve pain is associated with several disorders including Peripheral Neuropathy and Fibromyalgia. I personally have found that 300 mg/kg/day eliminates all my nerve pain with no associated side effects (that is 27 grams per day, taken in three  9 gram doses). NOTE that I am not recommending, suggesting, nor advising, I am purely reporting what works for me, and actually my mom as well. Consult your doctor or other healthcare provider.
One study on peripheral neuropathy out of Massachusetts General Hospital (Harvard University's teaching hospital) concluded with "These observations … raise the prospect of l-serine supplementation as a first treatment option for this disorder," specified "Subjects received daily supplements of powdered l-serine (mixed in water for consumption) on a low- or high-dose schedule (200 or 400 mg/kg body weight, respectively; n = 7 per group)."
There is currently a clinical study, "L-Serine Supplementation in Hereditary Sensory Neuropathy Type 1," also at Massachusetts General Hospital that will be testing for nerve pain treatment and they will be using a dose of 400 mg/kg/day …
Drug: L-serine
400mg/kg/d L-serine or placebo divided TID for year 1, then crossover of placebo arm so that all patients on 400mg/kg/d L-serine divided TID for year 2.
Take note of the numbers. The end result of what one would take is in GRAMS not milligrams (because it is thousands of milligrams). Serine weighs approximately 4 grams per teaspoon. This would be 54 capsules a day for me if I went that route! (See our calculator.)
400 mg/kg/d for a 150 pound adult equals approximately 27 grams a day (27000 mg), about 7 teaspoons.
That should give you an idea of the doses that others are using and testing with. Again, check with your healthcare provider to see what will work best for you.